How to Preserve Spice Powders Without Spoiling?
Spices. They're tiny but powerful, essential for turning chickpeas into chana masala and regular tomatoes into a rich, complex sauce. Food would be boring without them, and that won't do. If there's one thing more depressing than a dish with no flavor at all, it's a dish with washed-out flavor from spices that have lost their potency. We shall not let this happen with us.
What Causes Spices to Spoil?
Spices' flavor is preserved by their natural oils. These natural oils are highly volatile and can quickly degrade. Spices lose their flavor when exposed to oxygen and heat. The spices will still be safe to eat, but their flavor will be diminished, defeating the purpose of storing spices in the first place. Spices' nutrients will also degrade over time.
Tips to Preserve Spice Powders Without Spoiling:
1.Purchase in Small Quantities.
Because a ground spice's shelf life is only about a year and you can't always be sure when it was ground, experts recommend buying enough to last you six to eight months. How much this means depends on the spice and how often you use it in your cooking. So start keeping track of how much space you're consuming. Purchase larger quantities of anything you use frequently. Thottam Farm Fresh has small pouches/bottles of spices.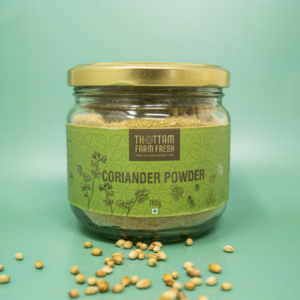 2.Use Caution When Handling.
Above the oven or stovetop, where your spices are exposed to both light and heat, is the absolute worst place to keep them. Instead, store them in a cabinet a little further away from the stove. If at all possible, use glass vessels. For some spices, storing them in metal tins is fine, but salt or salt-based blends can corrode these containers. Storing spices in plastic bags or containers for more than a few weeks should be avoided because the oils in the spices that you would've stored will break down the plastic. Thottam Farm Fresh uses paper pouches, glass bottles, and metal tins for spices and spice powders. We do all the processes very carefully before sending you the product. 
3.Grind Your Spice.
For the best flavor, buy whole spices and grind them yourself whenever possible. Hand crumbling whole dried herbs is simple, and the Microplane rasp grinds whole nutmeg and woodier herbs and spices like lemongrass quickly. Harder spices, such as cloves, can be ground coarsely in a coffee grinder, and there's always the old standby, the pepper mill.
4.Oxygen Absorbers Should be Used.
Even if you put spices in an airtight container, oxygen will still be present. The spices will gradually deteriorate due to the oxygen. In addition, insect eggs may be present in the spices (it sounds grosser than it is). These eggs have the potential to hatch, resulting in an infestation inside the container.
What is the solution?
Oxygen absorbers are a type of oxygen absorber. Oxygen absorbers (OAs) are small iron packets. They take in oxygen from the air around them. They create an oxygen-free environment when placed in an airtight container like a sealed Mylar bag. We pack your spice in a neatly sealed paper bag or a glass bottle and air seal it to prevent insect attacks and oxygen reactions.
5.Keep Your Spices Somewhere Cool and Dark.
Heat and light will degrade spices, even if they are kept in an oxygen-free environment. You must keep them in a cool, dark place. Light does not pass through mylar bags, but mason jars do. To protect them from light, place them in a box or wrap them in plastic bags.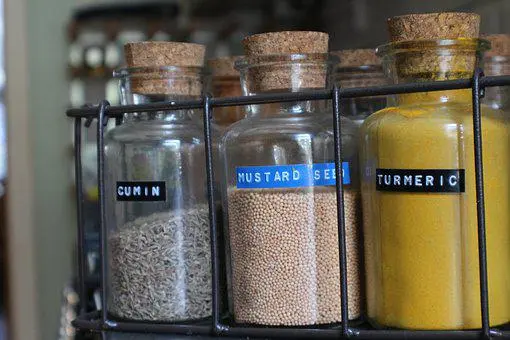 6.Instead of Buying Individual Spices, Stock up on Spice Mixes.
Stockpiling individual spices isn't practical for most people. In some of my recipes, I use as many as 12 or more spices. I'd have to open dozens of little spice bags if I wanted to cook a few different types of meals in an emergency.
Instead, I'd only have to open a few bags if I packaged spice mixes. The rest would be kept sealed and secure until they were needed.
Is it Possible to Keep Spices in their Original Packaging for a Long Time?
Choose spices that come in metal pouches if you don't want to repackage them. Spices in glass containers will last longer than spices in plastic containers. Spice jars are also fine if kept out of direct sunlight. Within 1-2 years, you'll need to rotate the spices again, or they'll lose their flavor.