What are the Health Benefits of Turmeric and How is it Grown and Processed?
Know More About Turmeric: The Indian Solid Gold
Turmeric cultivation is a lucrative business in India. Turmeric production in India accounts for roughly 78 percent of global production. Turmeric can be grown as a monoculture or as an intercrop with other plantation crops. In this article, you'll learn how to grow turmeric in India. Here's everything you need to know about the turmeric plant, seed, and production.
Turmeric, also known as Haldi in Hindi, is a widely used and revered Indian spice. Because of its golden yellow color, it is known as 'Indian Solid Gold' and 'Indian Saffron.' It is used as a condiment, a dyeing agent, a flavoring agent, and even as a medicine. It is an indispensable component of Asian cuisine, particularly in Indian curry dishes. 'Kumkum,' or sacred vermilion, is a byproduct of turmeric. Many Hindu religious ceremonies, offerings, and festivals place a high value on it. Turmeric is a popular food coloring agent due to the growing demand for pure, organic foods. Buy organic turmeric online and make sure it is fresh and chemical-free.
Ideal Conditions for Growing Turmeric.
Climate
Turmeric grows best in a warm, humid environment. It thrives in sloping terrain. Turmeric cultivation in India requires temperatures between 20 and 30 degrees Celsius and rainfall of 1500 to 2250 millimeters per year. It's also possible to grow it as an irrigated crop.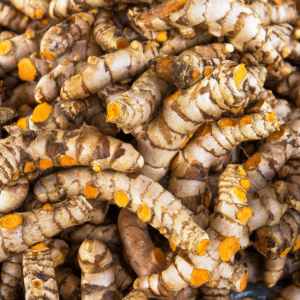 Soil
Turmeric grows best in clayey soil that contains a lot of humus. It can, however, thrive in sandy, well-drained soil. Red soil, ashy loam, and light black soil are other types of soil that are suitable for turmeric cultivation. The water must drain away from the area and not remain stagnant. In addition, the acidity of the soil must be neutral.
Rotation of Crops
Turmeric must be rotated with other organically grown crops if it is grown organically. The use of inorganic or synthetic fertilizers would have an impact on soil quality, and the harvest would not be organic. Turmeric is used to rotate crops such as sugarcane, garlic, wheat, maize, ragi, and a few other fast-growing vegetables.
Turmeric Seeds Are Planted
Before sowing, turmeric seeds are frequently kept moistened in straw and allowed to sprout. In India, the best time to plant is right after the pre-monsoon showers. Turmeric is a plant that thrives on a lot of manure. As a result, the rhizomes are covered in rotten cattle manure before being sown. Trichoderma mixed compost can also be used to cover them. The soil is mixed with powdered neem cake and applied to the sowing pits. Always buy turmeric that is free from harmful chemicals.
Plant Protection with Turmeric
Regular field surveillance is required to protect the turmeric plant from pests and diseases. This is especially important in organic farming. Farmyard manure is used as the base dose in non-organic farming.
Turmeric's Major Health Benefits
1.It has anti-inflammatory properties.
Turmeric has been used as an anti-inflammatory and anti-arthritic for centuries in Ayurvedic and Eastern Asian medicine.
2. It helps with digestion.
Turmeric's health benefits are well-known for aiding digestion.
3. It has cancer-fighting properties.
Turmeric has anti-cancer properties in breast, bowel, stomach, and skin cancer cells, according to some studies.
4. It also helps with the management of sugar levels in our blood.
Turmeric's active ingredient, curcumin, has been shown to help lower blood sugar levels, potentially aiding in the treatment or prevention of Type 2 diabetes.
5. It is beneficial to the heart.
Turmeric has been shown to aid in the reduction of cholesterol and blood pressure, two conditions that frequently coexist. Turmeric has various properties to improve heart conditions and reduce the risk of many heart diseases or even heart attacks by reducing cholesterol and blood pressure.
6. It helps to keep viruses at bay.
Curcumin can enhance antibody responses at low doses, assisting the body in mounting a virus response.
7. It reduces the severity of arthritis symptoms.
Rheumatoid arthritis, joint pain, and osteoarthritis have all been linked to turmeric's anti-inflammatory properties.
8. It can also help with the treatment of stress and anxiety.
Curcumin has been shown in animal studies to increase serotonin and dopamine, two brain chemicals that affect mood. It may also assist you in responding more effectively to unexpected stress.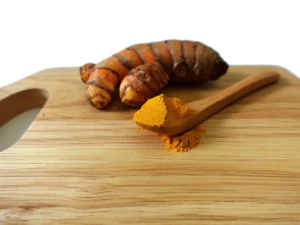 Including turmeric in your diet has health benefits. Turmeric can help with the improvement of immune health, pain relief, and metabolism, among other things. Turmeric may not be worth taking for some people due to some of its side effects.
When deciding whether to try turmeric, it is important to proceed with caution. Before using turmeric to treat any health condition, consult your doctor, as you would with any alternative therapy. 
Our Alleppey Turmeric
Turmeric grown in Kerala is one of the most sought-after spices in the world due to its complexity and versatility. Alleppey turmeric is known to have a golden yellow color, high curcumin content, and rich flavor.
Our Alleppey Haldi is grown at our farm in Angamaly, Kerala, and ground at our processing facility. At our farm, we do not use any chemicals, pesticides, or insecticides. We provide pure, slow ground, golden yellow turmeric with high curcumin content produced from the "Curcuma longa" plant. It is processed and packed in our hygienic processing facility to retain its natural freshness, aroma, and nutrients.
Make sure to buy organic and fresh turmeric powder for a healthy you.